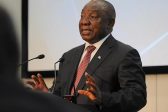 [ad_1]

President Cyril Ramaphosa and Olympic champion Caster Semenya are among Time's 100 influential people in the world this year.
The famous list is launched annually and features pioneers, icons, leaders and artists from around the world.
Ramaphosa is prominent in the leadership category, along with US President Donald Trump, Speaker of the United States House Nancy Pelosi, Pope Francis and Chinese President Xi Jinping among others.
Time described Ramaphosa as having "perfected the art of patience."
Created in Soweto county, he has honed his political skills by helping his country to emerge from apartheid. So when he was sidelined for the presidency in the 1990s, he took advantage of his cunning and sociability to make a big fortune in business while his rivals sank the country into dysfunction and nepotism.
Now, finally, at age 66, Ramaphosa, or Cyril, as he is known by South Africans, has the chance to end corruption and increase the paralyzed economy. This could be his most difficult battle so far, "Time said, adding that the electricity blackout, poverty and massive unemployment left millions desperate for quick results.
He said cruel fighting in his African National Congress party left Ramaphosa vulnerable to a coup, or perhaps a slump in the May 8 elections.
"For all that, Ramaphosa kept his characteristic laughter and his way of focusing on the bigger picture," Time said, noting that the South African president had said recently that the union "would never happen overnight."
"After a lifetime of fighting against his enemies, he should know," he said.
Ramaphosa was elected president of the ANC in December 2017 and took over as the country's leader in early 2018 after the latter, who had been president since 2009, was forced to resign before this year's national elections amid allegations of corruption.
The magazine listed Semenya as an icon, saying that South Africa's favorite sports star taught the world that "sex is not always binary, and has led us to question the fairness of distributing social benefits according to" male "classifications, and "feminine."
Semenya is fighting against proposals from the International Association of Athletics Federations that aim to restrict acceptable levels of testosterone to female athletes at the Court of Arbitration for Sport in Geneva, Switzerland. The court will deliver its decision later this month.
"Sports eligibility, she and others say, should not be based on hormone levels or other differences in sexual development. If it is successful, Semenya's effort could open the door for all who identify as women to compete in track events without having to first clinically reduce testosterone levels below the proposed limit, "Time said.
"Ultimately, this incredibly difficult issue is politics for the sport to solve. But, however, it is addressed, Semenya will already have made a unique historical contribution to our understanding of biological sex. "
– African News Agency (ANA)
For more news in your own way, download The Citizen iOS and Android.
[ad_2]

Source link